Quick and easy to use: The MicroSnap E.coli test kit is simple to use and provides results in just 24 hours.
Accurate: The test kit is highly accurate and can detect as little as 10 CFU (colony forming units) of E.coli per 100mL of water.
Portable: The test kit is small and lightweight, making it easy to transport and use in the field.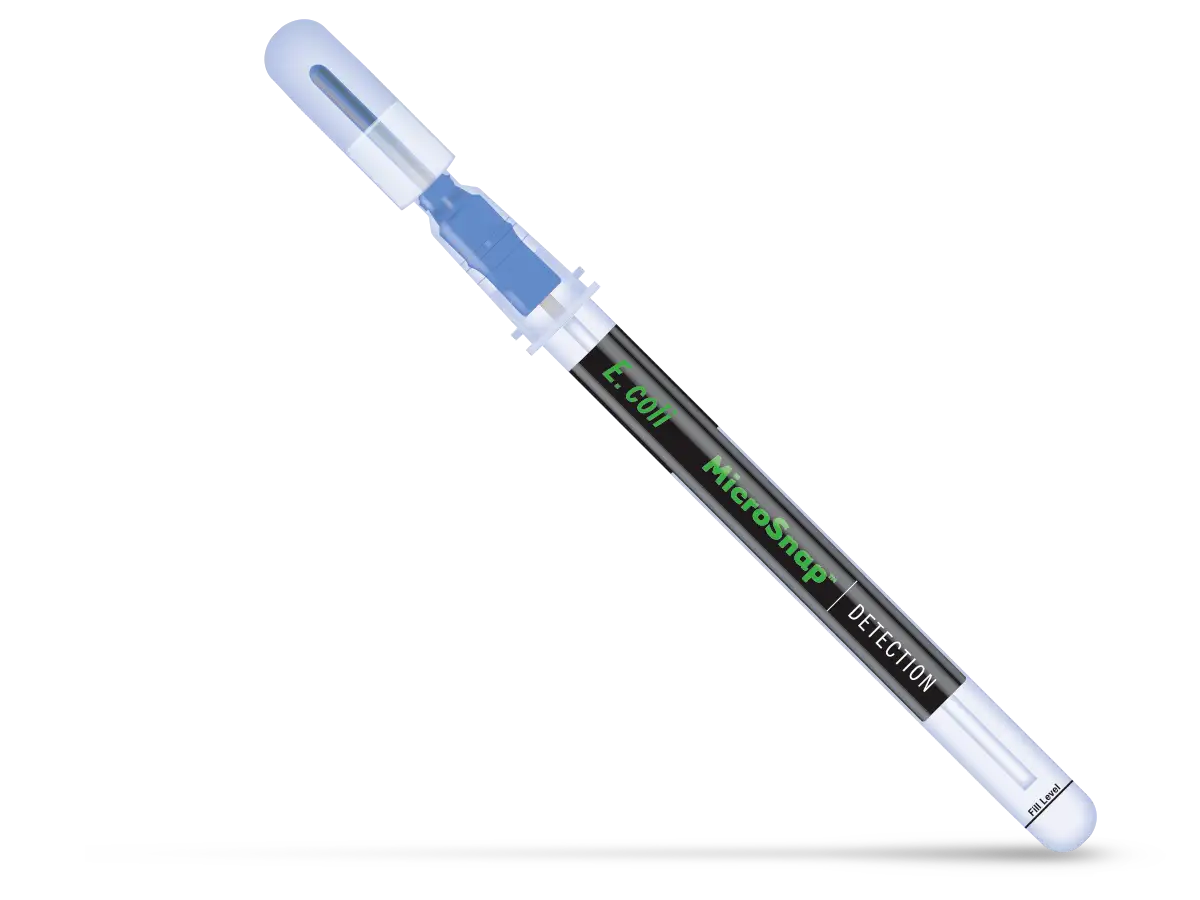 Usage of
MicroSnap E.Coli
The MicroSnap E.coli test kit is widely used in industrial settings to ensure the safety and quality of water used in various processes. It is commonly used in the food and beverage industry, where E.coli can pose a serious risk to public health. The test kit is also used in the pharmaceutical and cosmetic industries, as well as in the production of drinking water.
In addition, the MicroSnap E.coli test kit is also used in the monitoring of wastewater and surface water, ensuring that the water is safe for discharge and that it meets regulatory requirements. This test kit is also used in the testing of water from swimming pools, spas, and hot tubs, to ensure that the water is safe for swimming and other recreational activities.
Rapid test results are essential to releasing product quickly. The MicroSnap™ family of rapid indicator organism tests enables food safety and quality manager to enumerate samples in 6 hours and to determine presence/absence in 8 hours. Simply collect sample, incubate and read with a Hygiena™ Luminometer.
Reduce Costs and Shorten Release Cycles
While sending samples to the lab for PCR analysis can be necessary for a specific application, simpler more cost-effective solutions can supplement your testing protocols. Integrating MicroSnap™ as a rapid indicator test within your testing protocol will reduce material cost, shipping costs and lab fees. Plus, a rapid test also means shorter production hold times and lower inventory holding costs, all leading to more cost savings.
Flexible and Easy-to-Use Format
MicroSnap's efficient design makes microorganism testing flexible and easy. It can be used for both surfaces and samples. Both options use a simple 2-step process: enrichment and detection. Plus, the patented Snap-Valve holds a precise amount of specific enrichment broth, ready to be used for either product or surface samples. Within the enrichment device is a built-in pipette, enabling convenient and efficient transfer of enriched samples to the detection device. The enriched sample is read on a Hygiena™ luminometer, which means no tedious colony counting is necessary. Use the RLU to CFU conversion table to determine the outcome. Microorganism testing has never been easier.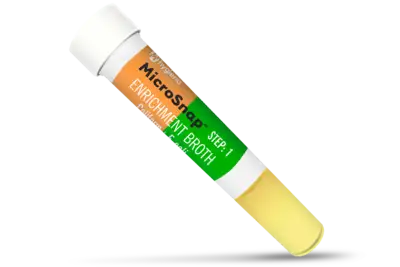 Works with Filtered Samples
MicroSnap™ Coliform & E. coli Enrichment Broth is available in a 2mL vial for use with large-volume filtered samples and delivers same-day results. Earlier results mean products can be released sooner; thus cutting inventory and warehouse costs for beverage processors. This method is AOAC approved and validated against the EPA method. 
Complete Hygiena Monitoring Program
MicroSnap™ is an essential component within a complete environmental monitoring program. Combine MicroSnap™ with the EnSURE™ Touch and SureTrend™ Cloud to capture and trend your test results over time. Use the SureTrend™ Cloud dashboard to see how your ATP testing program impacts your microorganism testing and how the two work together to reduce your risk of a contamination event.
MicroSnap™ Enhanced Nutrient Broth
MicroSnap™ Enhanced Nutrient Broth is a non-selective protein solution. The 9mL nutrient broth enables low-level enumeration when used with MicroSnap™ Total, MicroSnap™ Coliform and MicroSnap™ E. coli. For milk samples, use with MicroSnap Coliform to detect 1 CFU/mL (AOAC-RI Performance Tested Method (Certificate #071302).
Only available by special order in quantities of 25 boxes or more. Contact a sales representative for more information.
MicroSnap Coliform & E.coli with EnSURE Touch
MicroSnap Coliform & E.coli with EnSURE
MicroSnap Coliform for Milk Samples